Healthy Living & Eating
Everything we eat and drink all contributes to our carbon footprint.
Resources such as water, land and energy are not only needed for cultivation, rearing, irrigation and harvesting; but also for transportation, storage, processing, packaging and marketing.
Energy and water are also required to chill, freeze, prepare and cook food in our homes, schools, restaurants and shops.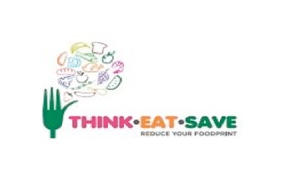 Each year a third of all the food the world produces is wasted, thrown in the bin or ends up in landfill sites. Check out this video from UNEP – Think, Eat Save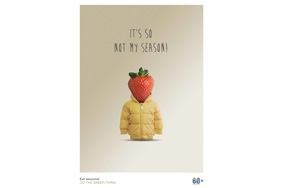 Not My Season - Matthew Elliott
www.dothegreenthing.com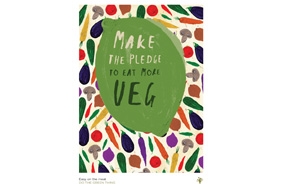 Make The Pledge - Nikki Miles
www.dothegreenthing.com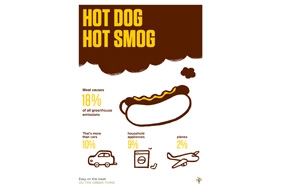 Hot Dog - Hiromi Suzuki
www.dothegreenthing.com
Thinking carefully about the way we eat, it's not only good for us, but also good for the planet.
Visit Mission: Explore FOOD to learn about growing, harvesting, waste and soil. Discover how our choices affect people and places around the world too.
Here are some suggestions to lead more sustainable lives through healthy eating.
Eat locally & seasonally
It's not only fresher, tastier and healthier – it's good for the planet too
Look at the labels on fruit and vegetables on supermarket shelves.
Where were they grown? How far have they travelled?
The distance is referred to as food miles
Is there an alternative closer to home?
Try to eat fruit and vegetables that are in season.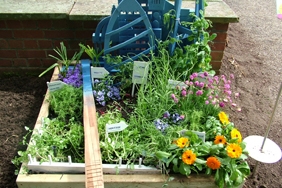 Plant Art in a Pallet Garden
© Chris Collins
www.chriscollins.org.uk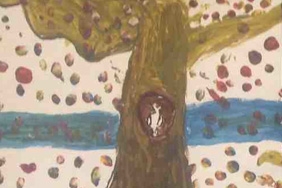 Somerset Apple Orchard
Painting by Abbie & Ruby aged 8
Butleigh Primary, Glastonbury, Somerset
Grow insect and bee friendly plants
Bumble Bee Print by Luca aged 13
Kew House School, London
Grow your own
You don't need a garden and you can grow indoors all year round.
Recycle old cartons and containers to make plant pots, hanging baskets and window boxes.
It's Our World Ambassador and Horticulturist Chris Collins has lots of great advice on what and how to grow for pleasure and for food. Download his Sustainable Gardening Concepts PDF here
Try growing cress, tomatoes, parsley, radishes and strawberries. Find out how to get started from Eat Seasonably
If you have a garden, no matter how small, transform a sunlit corner into a vegetable patch.
Grow vegetable for Wildlife with this activity sheet.
Get Planting
Runner beans, peas or rosemary not only taste great when picked from fresh, but the flowers will attract bees and other insects too!
Speak to your teachers about having an allotment or wild flower bed at school, you could also find out if there is a community garden near you.
Get creative with composting
Dalek Compost Bin
Photo © Chris Collins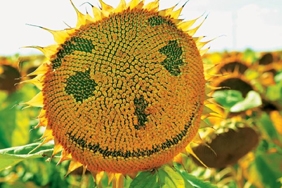 Get creative with plants
Sunflower Art
Photo © Chris Collins
Draw inspiration from plants
Mixed media by Sasha & Chloe aged 12
Portree High School, Isle of Skye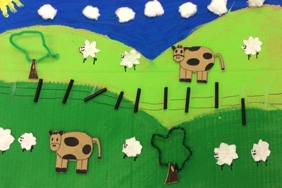 Welsh Countryside
Mixed media by Kelei aged 9 Hendre Junior School, Gwent
Get creative with your seed sowing.
Design patterns when planting vegetables © Chris Collins
Recycled Flowers
Mixed Group, aged 8-9 Portree Primary, Isle of Skye
Take at look the Sustainable Gardening Concepts (PDF) from Chris Collins to find out what can (and cannot) be composted.
Eat Less Meat
We can all reduce our carbon footprint by eating less meat.
Intensive (industrial) and traditional forms of meat production result in the release of greenhouse gases.
Make meat a special treat by introducing meat free days into your week.
Look at the labeling to check the meat is responsibly farmed and sourced.
Be Fish Friendly
Our everyday actions have an impact on our marine environments.
Too many fish are being taken from the sea.
Many species that were once common are now under threat from over fishing and pollution in our seas and oceans.
Make a difference by only choosing to eat fish that are caught or farmed in responsible ways.
Look at the labels on cans and supermarket fresh fish counters or freezers.
Choose dolphin friendly tuna and fish caught in sustainable methods such as line, pot, diver or hand-gathered
Look out for the Marine Stewardship Council (MSC) logo.
Visit The Marine Conservation Society and download their Good Fish Pocket Guide to make the best choices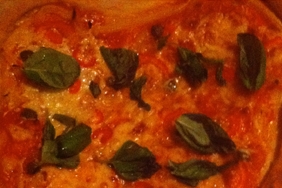 Homegrown Pizza – made from tomatoes,
peppers, chilies and basil all grown in pots
on windowsills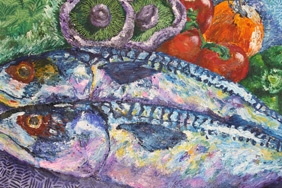 Natural Forms
By Jessie Aged 15
Monks Walk School Hertfordshire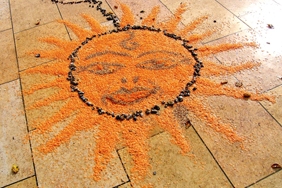 Lentil Sun
The Big Draw
Photo © Campaign for Drawing
Be Creative with Food
Design a calendar illustrating when fruits and vegetables are in season throughout the year.
Put your imagination to the test with leftovers
Turn stale bread into croutons, stuffing or breadcrumbs
Transform cooked vegetables, fish and meat into soups, pies, pasta bakes and stir-fries
Use visual language to encourage others to think about food on our plates.
Create your own recipes and share them with friends - you could even film yourself making them.
For great ideas on food and gardening visit Henri Le Worm
Get Planting
Photo © The Land Trust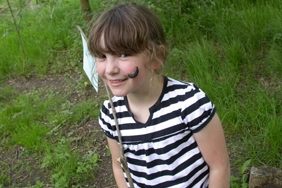 Get Close to Nature
Photo © The Wildlife Trusts - Debs Richardson Bull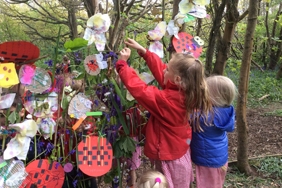 Our Woven Woodland Artwork Year 2 Pupils
Riverhead Infants School, Kent
Get Outdoors
See the Get Out - Get Active for even more ideas.
Digging, planting, watering and weeding is a practical way to enjoy being outdoors.
Not only is it a great way to work-out, but you can enjoy cooking and eating the end results and help to improve the natural habitat for birds, bees, insects and other wildlife.
Getting outdoors is good for us in so many ways. It helps us to:
Understand our connection with nature
Increase levels of activity and fitness
Improve circulation to distribute oxygen and blood through our bodies
Boosts our immunity to coughs and colds
Builds strong bones by absorbing calcium through Vitamin D from sunlight
Reduce stress and improve our sense of well-being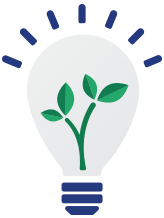 Its Our World aims to encourage children and young people (aged 4-19 years) in the UK to consider the environment in which they live, not just in an observational way, but also by reflecting upon the impact we all make upon the natural world during everyday life.
"You must be the change you wish to see in the world" - Mahatma Gandhi