Reduce Re-use Recycle
Everything we buy, eat, drink, wear or use adds to our carbon footprint
As consumers, we purchase goods that not only require raw materials and energy to manufacture or grow them, but also to store, transport, package, sell and promote them.
Disposing of unwanted goods, household and industrial waste further adds to our carbon footprint.
It makes ecological sense to avoid dumping rubbish in landfill sites and burning waste through incineration, as both release greenhouse gases.
Man-made materials, such as plastic, release toxins when burnt and do not biodegrade, as natural organic materials do.
Plastic items, including water bottles or fishing nets, do not wear down when discarded or washed into the sea.
They break into tiny pieces and end up as microplastic particles in the sand on our beaches or at sea.
These particles can be eaten by filter-feeding marine life or combined with other debris in vast swirling flotillas such as The Great Pacific Trash Vortex.
Buy Less Play More - Constanza Gaggero
www.dothegreenthing.com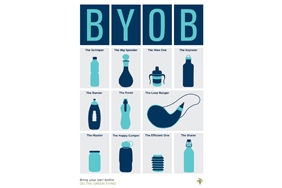 Bring Your Own Bottle
www.dothegreenthing.com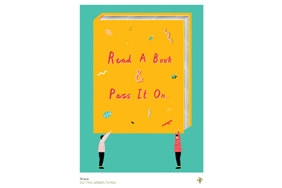 Share - Rose Blake
www.dothegreenthing.com
Reduce
Throwing away things and dropping litter wastes resources and harms the environment.
Together we can make a difference by sorting, separating and carefully disposing of items
Rethink waste by visiting
Recycle
Glass is 100% recyclable. If your empty jars or bottles end up in landfill they will not decompose.
But if recycled, they can be used again and again.
Aluminium is used to make lots of things from cans to cars. It is obtained mostly from bauxite mined from the Earth's crust. It takes four tonnes of bauxite to produce one tonne of aluminium, a process that is highly energy intensive.
Aluminium is 100% recyclable and only a fraction of the original energy is used in the recycling process - an empty Baked Beans tin could be back on the shelf within 60 days through being recycled.
Paper - each year we use around 12.5 million tonnes in the UK
Approximately 67% of this paper and cardboard is recycled.
It takes just seven days for a recycled newspaper to come back as a newspaper again
For facts and figures visit
Plastic - there are many types and we use over 5 million tonnes here in the UK.
Around 24% is recovered or recycled.
Some types of plastic require new technology to recycle it efficiently and much is being done to achieve this. But we can still help to reduce plastic waste by, for example, drinking from re-useable bottles.
It is being made increasingly easy for us to reduce waste through bottle banks, composting, recycling bins and collections. So let's all play our part at work, home or school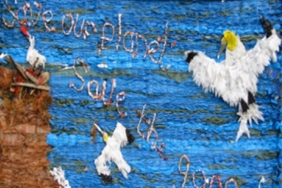 Save The Gannet - Marine Litter Panel created from woven plastic bags, bottles, cans and other items of litter. Kenn C of E Primary School Kennford Exeter Devon - TRAIL 2010
Urban neighbourhood study Created from recycled paper
By Success, aged 11,
Broadford Primary, Romford, Essex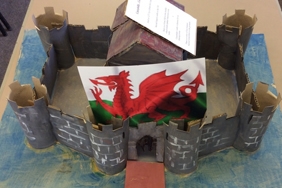 Caerphilly Castle
3D artwork created from recycled cardboard By Ruby, aged 9,
Hendre Junior School, Caerphilly, Mid Glamorgan
Reuse, Recycle and Upcycle
With a little imagination you can give unwanted items a second life.
Create an artwork using recycled materials - art doesn't have to be expensive!
Check out Cool It Art for great ideas to get you started
Make your own cards and gift tags from recycled cardboard and paper
Design an Art Garden
Add colour to a shady flowerbed by up-cycling plastic bottles into flowers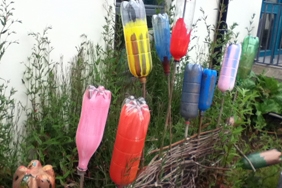 Plastic bottles painted in bright colours by "Art Clubbers"
at Bradfield Dungworth Primary School, Sheffield
Using their drawing and cutting skills pupils transform them into colourful flowers
The up-cycled flowers are "planted" to transform them into colourful flowers to brighten up a shady flowerbed
Speak Out
For environmental issues or wildlife through art.
Get Your Message Across
Using recycled materials - you could even make a "junk banner"
Use Your Artwork
To illustrate the importance of buying less and recycling more. Design a poster.
Mend Your Ways
Give your wardrobe a makeover with some nifty stitching.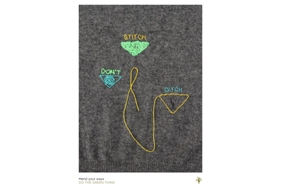 Stitch Don't Ditch
Karin Rubing www.dothegreenthing.com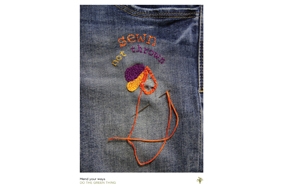 Sewn Not Thrown Karin Rubing
www.dothegreenthing.com
Sewn Beats New
Karin Rubing www.dothegreenthing.com
Customise
An old jumper, hoodie or jacket with buttons, fabric patches, cuffs and collars from other items of clothing.
Organise
A swop, swish or shwop your clothes with friends a much better way to get new clothes that is kinder to the environment.
Use Your Culinary Skills
And imagination to create meals from leftovers instead of throwing them in them in the bin Visit Love Food Hate Waste
Reuse design and make a Bag for Life using recycled canvas, denim or cotton fabric to cut down on use of plastic carrier bags. Make more than one to give as presents to family and friends.

Wearable Art from recycled cardboard, Re-used fabrics, willow and found objects Beaford Arts – TRAIL Teignmouth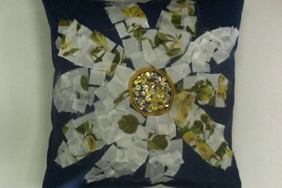 Home furnishing: Flower Cushion made from recycled materials Laren aged 16 Westfield College, Dorset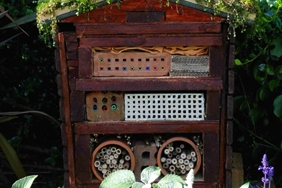 Bee Hotel: recycled materials and living plants roof TRAIL and Devon Learning & Development Partnership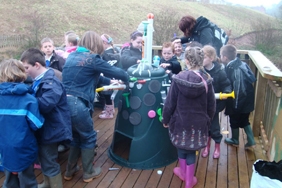 Get creative with composting
Dalek Compost Bin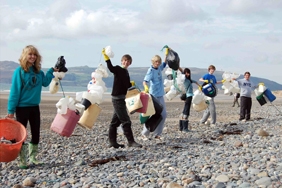 Beech Clear Up: The John Muir Award Students from Beech Hall School Macclesfield Photo: © Jacki Clark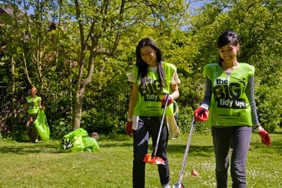 Litter Clear Up: The Big Tidy
Keep Britain Tidy
Its Our World aims to encourage children and young people (aged 4-19 years) in the UK to consider the environment in which they live, not just in an observational way, but also by reflecting upon the impact we all make upon the natural world during everyday life.
"You must be the change you wish to see in the world" - Mahatma Gandhi