Get Out & Get Active
A fantastic way to think about sustainability is to connect with the natural environment.
Be inspired by your own experiences and explore nature's palette of colours, its different shapes and forms.
Gather up paper, paints, pencils, go outside and create.
Why not share your artwork on the Online Gallery?
Where to go
You can find inspiration outdoors wherever you are.
You don't need to live in the country, by the sea or to travel far.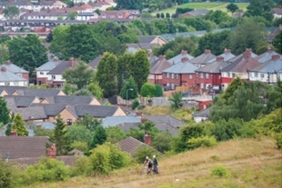 Green lung. Soakaway. Refuge
More than just a city © www.2020v.org
Climate regulator. Larder. Tourist attraction
More than just the sea © www.2020v.org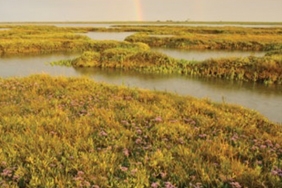 Seafood bar. Dynamo. Flood defence
More than just a saltmarsh © www.2020v.org
There are green, blue and open spaces in towns and cities; such as parks, gardens, rivers and canals.
Over 1,500 parks and green spaces across the UK are proud holders of the Green Flag Award, managed under
license by Keep Britain Tidy
If you live near the coast, visit a beach that holds a Blue Flag Award or Seaside Award. Find your nearest beach here or here
Enjoy one (or more!) of the UK's National Parks
Explore their meadows, moorland, woods, wetlands, hills and mountain ranges.
Head into the woods to find lots of inspiration. The Woodland Trust and conserves 1,000 woods across the UK and they are all free to visit.
Get out and explore waterside wildlife by downloading a free map and activity sheet from The Canal & River Trust or find out how to volunteer to take part in a conservation project.
Find out if there is a nature reserve near you. The Wildfowl & Wetlands Trust has nine centres across the UK. You will discover lots of ideas for your artwork and can even take a course in landscape and wildlife photography.
Wherever you are there's a Wildlife Trust near you, looking after wildlife and wild places. Use this map to find your nearest Wildlife Trust.
The Wildlife Trusts also have over 250 children's nature clubs, use this map to find one near you.
The John Muir Trust owns and cares for some of the UK's finest wild places, including Ben Nevis, and provides lots of resources to get the most out of being outdoors
The Land Trust manages open spaces such a country parks, nature reserves, woodlands and hold events throughout the year from Family Fun Days to night-time bat walks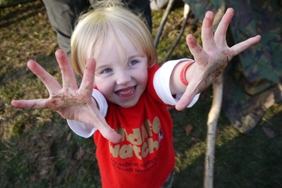 Photo: © Julie Norman Wildlife Trusts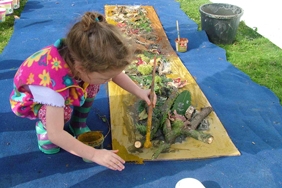 Photo: © The Big Draw – Campaign for Drawing
What to do
You'll easily find inspiration for your artwork.
It might be the view or a natural form you would like to share.
Visit a nearby outdoor space that you haven't been to before.
View your neighbourhood from a different perspective. Take a look from the top of a hill.
Tune into your environment to create your artwork - experience it, become familiar with it at various times of day to study how light and shade falls.
Try to illustrate this in your painting, drawing, sculpture or photograph.
Observe it at different times of the year. See how it changes with the arrival and passing of each season.
Identify different types of plants, trees, insects, butterflies, birds, shells, aquatic and marine life.
Study them in detail to create natural forms.
Feel the different textures of the tree bark, grass, soil, foliage, feathers and seaweed.
Look up at the sky - see what shapes you can make out amongst clouds, or gaze at the stars at night. Try to identify constellations and planets.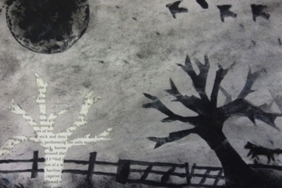 Nightscape: Mixed Media
Y9 - Hadleigh High School, Suffolk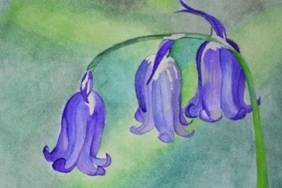 Close up study natural forms: Bluebells Amy, aged 19, Ayrshire The John Muir Award
Land Art: Andy Goldsworthy inspired Josh aged 12, Lancashire - Big Draw Broughton Business & Enterprise College.
Go Wild
Participate in an award scheme that's all about connecting with, enjoying and caring for wild places (and helps deliver curriculum outcomes too) such as The John Muir Award. See their own Sustainability Resource Guide.
The Wild Network champions and supports connections with nature and wildness. For loads of ideas on how to spend Wild Time take a look here
Become a nature detective, go pond dipping or embark on a bug hunt with Wildlife Watch. Browse through activity sheets, spotting sheets and interactive games here
Be Active
Use pedal power
Go on a family bike ride. Look up a route on the National Cycle Network. Not only can you get close to nature you could discover some great art.
Visit Sustrans for resources, events and guidance on ways to make active journeys to school, easy, fun and inspiring.
Take a cycling proficiency test – find out more here
Join a Youth/Juniors Bike Club
Remember to be seen and be safe, make sure your bike is fully maintained and always follow the Highway Code.
Use paddle power
Take a look at the seashore, river or canal from a different perspective - from the water.
Take a boat trip or try a taster session with your local canoe or kayak club.
Before taking to the water, learn the essential skills and wear the appropriate kit.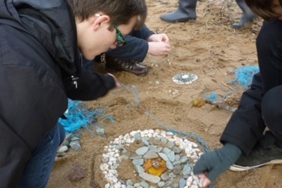 Students from Clydebank High School creating land art at Loch Lomond.
Creative Conserving
You might have a garden, but you don't have to, you can still help create habitats and suitable environments for birds and insects. Use your school playground, or local parks and wild places.
Transform empty cartons into plant pots
Make a window box, container or hanging basket from recycled materials
Build a bird or bat box
Design a bee hotel with fine hollow tubes
Plant bee-friendly flowers in your garden or school playground
Active Conservation
Find ways of giving your time to help local conservation and community projects by taking part in:
Wildlife Surveys
The Big Tidy Up – order your free kits here
Hedge Building
Fence repairing
Clearing invasive plants
Creating new habitats to attract different species
Beach, pond or river cleaning
Tree planting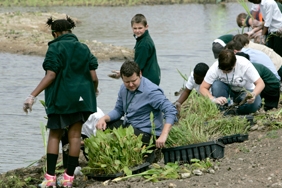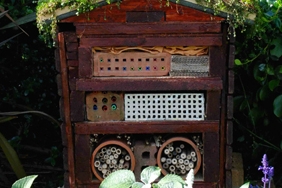 Photo © TRAIL Devon learning & Development Partnership. Bee Hotel created from recycled materials with living plants roof.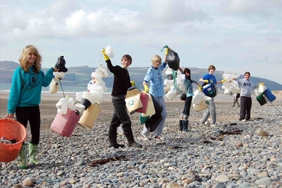 Photo © Jacki Clark - The John Muir Trust students from Beech Hall School, Macclesfield Active conservation at Porth Neigwl Beach, Gwynedd.
Contact your local, Wildlife Trust, National Park, The John Muir Trust, The Marine Conservation Society and The Land Trust for projects in your area.
Find out if your school is signed up to take part in a Big Tidy Up organised by Keep Britain Tidy
There are some great ideas on the 2020VISION website and lots more links in the John Muir Award Sustainability Resource Guide
See also Nature's Calendar to help record the impact of climate change on wildlife, and
OPAL Surveys on climate, biodiversity, soil and earthworm, hedge and tree health, air and water quality, invertebrates.
Campaign
Speak out for local and global environmental issues that matter to you.
From cycle lanes or litter in your neighbourhood, to deforestation and endangered species further afield.
Use your artwork to get across your message.
Make your voice heard by:
Researching and fundraising for a conservation project or wildlife charity
Getting in touch with your local newspaper, TV or radio station
Writing to your MP
Contacting Local Councilors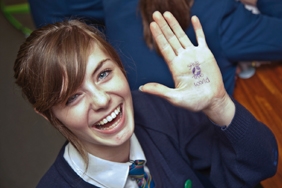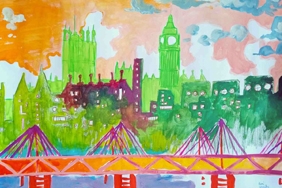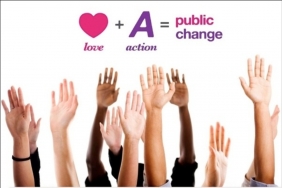 Photo © www.futerra.co.uk
Its Our World aims to encourage children and young people (aged 4-19 years) in the UK to consider the environment in which they live, not just in an observational way, but also by reflecting upon the impact we all make upon the natural world during everyday life.
"You must be the change you wish to see in the world" - Mahatma Gandhi