Techniques & Materials
Once you have decided upon the subject matter, sought inspiration from nature and art, you need to consider how you will create your artwork. Here are some suggested techniques and materials, but you may be able to think of some more.
Drawing
Pencils are available in assorted grades and a wide variety of colours. HB pencils are standard. "H" is for hardness and the higher the number 9H -2H the lighter the mark making to achieve crisp lines and lighter shading. "B" is for blackness and the higher the number 9B – 2B the softer the pencil to achieve darker shading and shadows. The Chiaroscuro method of drawing and painting creates bold contrasts between light and shade.
Experiment using differing pencils or pens – biro, fineliner or felt tip. You might like to try using just one colour with different shading or a range of colours.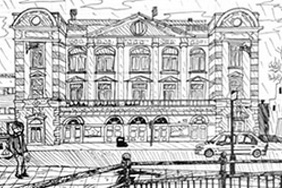 Zoom, aged 13, has used pencil to draw the outline of Tottenham Hale Building and pen & ink to highlight shading and texture
Florrie aged 9, from Wales, has used colourful felt tips to create her view of The Black Mountains.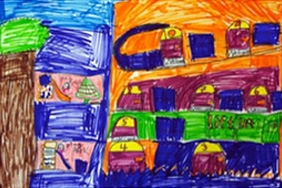 Zahra, aged 6, has also used felt tips to bring her community in Lambeth, South London to life
Produces a very soft line and is a very quick medium to help create your artwork. With the use of a good quality rubber you can erase some of your markings juxtaposing planes of light and dark.
Coloured Pastels and Chalks
The technique of drawing with chalks and pastels can also be used to create texture and shade and varying heaviness of mark makings.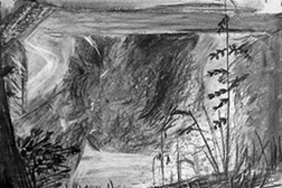 Natural forms in charcoal, Y9 Cranleigh School, Surrey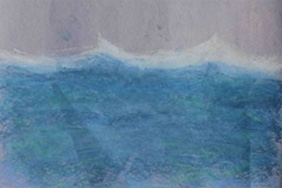 Jack, aged 9, from Falmouth,Cornwall, has used Chalk on paper to create his stunning seascape (Courtesy of BaylisGray)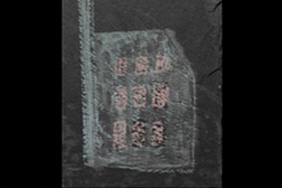 Ruby, aged 8, from Falmouth has used chalk on locally sourced slate to illustrate a Cornish Tin Mine, A nearby landmark and important part of the County's industrial heritage (Courtesy of Baylis Gray)
Painting
You can create a landscape painting or close up study of a natural form by using a variety of paints that are available in many vibrant shades. So let your imagination run wild with a bold choice of colours.
Acrylic Paints are easy to mix and dry quickly. They can be applied to paper or card.
Seurat is particularly noted for developing the pointillist painting technique, using small dots of colour in a pattern to form an image.
You can also use acrylic paints with other materials to create a Mixed Media artwork.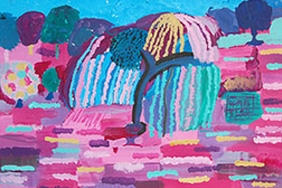 Surrey Landscape, Cranleigh School, Y9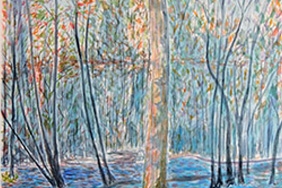 Woodland Scene, Cranleigh School, Y11 painted in acrylics using a watercolour technique with thin transparent washes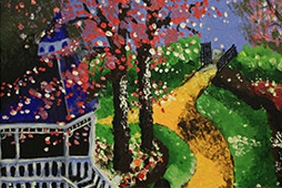 Shiux, aged 16, from Ilford Essex, has painted a landscape using acrylic paints in a style inspired by the French Post-Impressionist painter Georges Seurat. (1859-1891)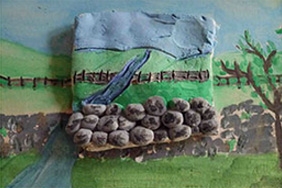 Rhianna, aged 9, from Belper, Derbyshire, has used clay and acrylic paints to create a 2-Dimensional stonewall celebrating her local landscape in the Peak District.
Watercolour Paints & Gouache
Are mixed with water and can be re-touched after painting. But make sure you do not use too much water as the colours can run and you need to store them on a flat surface to dry. Special watercolour paper can be used.
Oil Paints
Are best used on canvas, but take care as they stain clothing and other objects. Oil paints can take a long time to dry fully so they will need to be stored in a safe place.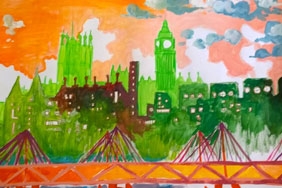 Westminster Skyline – Watercolour - Rene aged 19, Art Student, City & Guilds London Art School – Cool It Art
Photo: I Sommerville – Cool It Art
Bess, aged 10, from Perthshire has used Watercolours to create Scottish Highlands Landscape
Collage
Is a technique using different materials to create an assembled image by affixing them onto canvas or paper. The end result will not only be a great way to illustrate your world, but a practical way to re-use or recycle old newspapers, magazines, sweet wrappers, packaging.
You can also consider using natural materials such as leaves, feathers, wood shavings or tree bark.
Collage and paints illustrating natural forms in art using old envelopes, magazines, music sheets and wrapping paper. Y9 Hadleigh High, Suffolk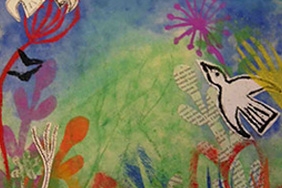 Collage and paints illustrating natural forms in art using old envelopes, magazines, music sheets and wrapping paper. Y9 Hadleigh High, Suffolk
Mosaic
Is a technique using small flat pieces of coloured glass, stones or tiles.
It is another great way to upcycle and recycle old or unused items such as broken tiles, buttons and glass beads.
Or you can use natural materials such as shells, pebbles or small rounded pieces of stone.
Or any combination of natural and recycled materials you prefer.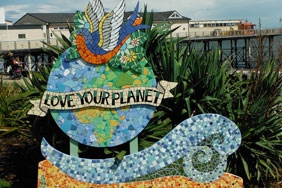 Mosaic Artwork : Michelle Greenwood-Brown – Courtesy of TRAIL 2014 Environmental Sculpture Trail, Teignmouth, Devon www.trail.org.uk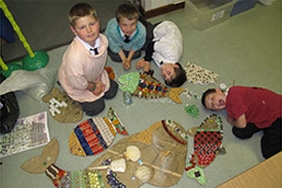 Photo: TRAIL 2010
Pupils from Canada Hill Primary, Devon created a mosaic Mermaid artwork using a selection of recycled and natural materials to celebrate their coastal environment. www.trail.org.uk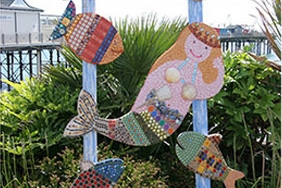 Photo: TRAIL 2010
The Mosaic Mermaid and her fishy friends joined the Sculpture TRAIL on Teignmouth Seafront attracting much interest from local residents and visitors alike.
3D Artwork
Artwork can be any size or shape as it can be uploaded as a digital photo or scanned image.
You don't have to stick to painting or drawings you can create a 3D artwork.
This technique is another great way to use recycled materials. You can tear up old newspapers into strips to make your world 3D by inflating a balloon, covering it in paper mache and painting it to create a global view.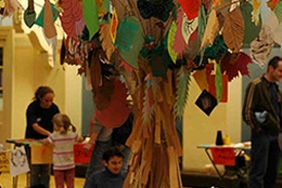 3D Tree: Courtesy of The Big Draw, Goldsmiths University of London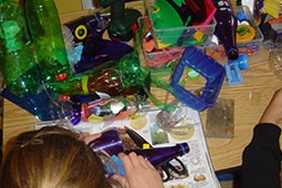 Photo: TRAIL Bovey Tracey Youth Cafe, Devon
Recycled Materials & Litter
Litter and waste can be transformed into great art.
These works have been created by community groups, artists, schools and colleges in Teignbridge, Devon who are part of TRAIL. It's Our World is delighted to collaborate with TRAIL during their 10th Anniversary year. Why not use found objects to build and say something about waste and litter?
What would your message be?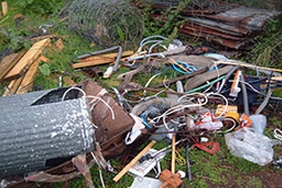 Before: A pile of unwanted junk can be transformed into great art and can make a powerful statement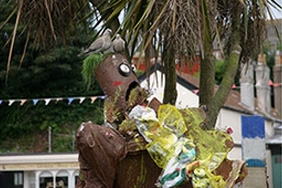 After: Landfill Man created by Youthopia, Dawlish Action for Youth, Devon. Photo:Courtesy of TRAIL
Pupils from Our Lady & St Patrick Primary transform old car hub wheels. Artist –Amy Burton Smith. Photo: TRAIL 2014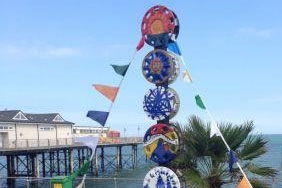 To create Maypole a 3-dimensional artwork from hub wheels and other recycled materials. TRAIL 2014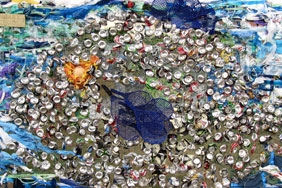 Old tin cans and plastic bags transformed into 2-Dimensional artwork to speak out against plastic pollution of seas and oceans.TRAIL – Kenton Primary School Dawlish
Natural Minerals
Get outside and be inspired by nature.
Create your artwork using natural materials such as plants, shells, twigs, pebbles.
Arrange them on a flat surface such as paper, card, fabric or the ground.
Take a photo in situ and replace items where you found them, so you are not taking away from nature.
Be responsible; Avoid a well-tended and much prized flower bed. Do not uproot wild flowers and plants.
Always follow the Code of Conduct for conservation and enjoyment of the natural and marine environment.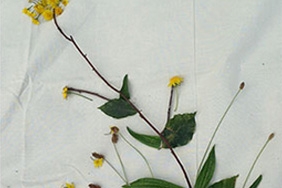 Photo: Creative Star Learning, Aberdeen – Floral Design using leaves & flowers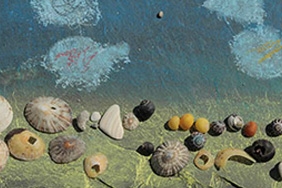 Chester, aged 9, from Falmouth, Cornwall has used shells & coloured chalks. Artwork & Photo: BaylisGray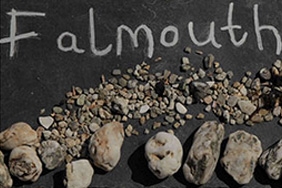 Freya, aged 10, has used slate and pebbles. Artwork & Photo: BaylisGray