How to get started
Take a moment to think about your environment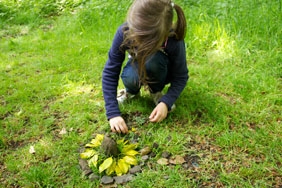 Outdoor Sculpture: Photo Alyssa Flegg, courtesy of Jupiter Artland, Edinburgh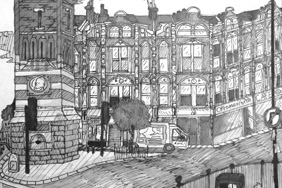 "My view of the world is busy traffic and people on the street. It's the local Kebab shop, Rajco the Newsagent, George's Fish & Chips shop, London Buses and skanky pigeons."
Pencil & ink drawing by Zoom aged 13 Haringey, London
Do you live in the countryside, by the sea or in a town or city?
How will you share a view of your local landscape, coastline or neighbourhood?
Consider how your artwork might celebrate where you live or promote a more sustainable environment.
How will you create your artwork?
By painting, drawing, printmaking or taking a photograph,

Photo: I Sommerville Cool It Art
Photo: i-Stock, Getty Images
Or by making a collage, a mosaic or perhaps a 3D artwork from recycled materials.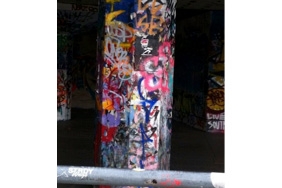 Urban photography: South Bank Skate Park - Belle, aged 10, Lambeth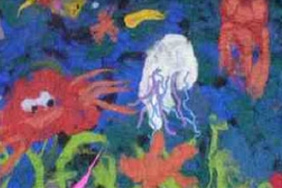 Textiles: Felt Sea Scene
By Moray Junior Wildlife Watch Group, Scottish Wildlife Trust
"We often visit Spey Bay nature reserve near Fochabers with the Watch
Group to study nature. We love the crashing sound of the waves on the beach
This picture has ideas from all our group to show what lives in the ocean where we live"Lewis Hay, aged 9
PROMOTING SUSTAINABILITY
Or why not experiment, try new approaches to say something, to shape or influence our impact on local environments.
From the Lascaux Cave Paintings to Banksy, artists, makers and designers have used visual language to inform, influence and persuade.
To celebrate the environment and promote sustainability what would your message be and how can you use visual language to say it?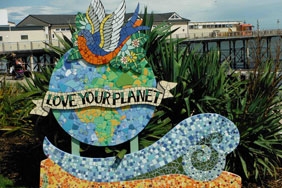 Mosaic Artwork : Michelle Greenwood-Brown.
Courtesy of TRAIL 2014 Environmental Sculpture Trail,
Teignmouth, Devon www.trail.org.uk