Artistic Inspiration
The natural and built environment has inspired, painters, sculptors, designers and photographers both past and present.
French Impressionist Painter Claude Monet (1840-1926) painted The Water Lily Pond at his home in Giverny, North West of Paris many times during the last decades of his life.
LS Lowry (1887 – 1976) captured industrial scenes, seascapes and landscapes of North West England where he lived. www.thelowry.com
David Hockney, English artist, photographer, draughtsman, set and costume designer drew inspiration from the East Yorkshire Wolds near his Bridlington home to create his giant and highly acclaimed landscape "The Bigger Picture"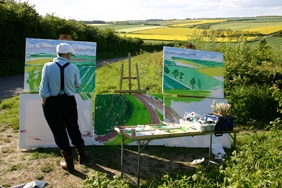 David Hockney painting "The Road to Thwing, Late Spring" May 2006
© David Hockney
Photo credit: Jean-Pierre Goncalves de Lima
Tania Kovats, English artist and sculptor, is known for exploring our experience and understanding of landscape.
Visit our Ambassadors Gallery to find out about "Rivers" or view https://vimeo.com/50361122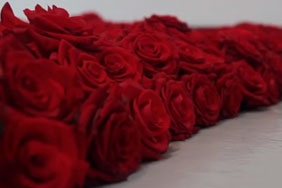 Natural forms feature prominently across the product ranges created by Orla Kiely (Irish Contemporary Designer)
Andy Goldsworthy uses natural materials to create his works in the natural landscape see video link to view his Stone Coppice Installation at Jupiter Artland, near Edinburgh https://vimeo.com/102234616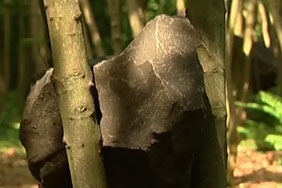 Jasmine, aged 14, chose to capture her local landscape in the style of Austrian Artist Hundertwasser (1920 – 2000)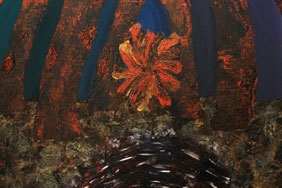 Renna, aged 16, has been inspired by contemporary German Artist & Sculptor Anseim Keifer to create her mixed media artwork
Inspiration on your Doorstep
Find out what art or photographic exhibitions are happening near you. There are lots of free events all over the country. Visit a local museum or gallery to view artworks at first hand. Take part in an artist, maker or designer workshop or event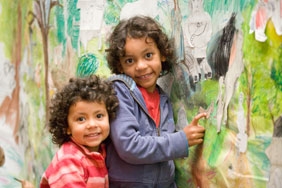 Photo: The National Gallery, London
Courtesy of: The Big Draw/Campaign for Drawing
Check out activities organised by our Partners under Who's Involved or the Events Calendar.